To Know is to Dominate
by BigBadBear on August 29, 2008 01:33 -0500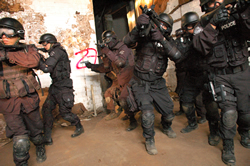 Close Quarters Combat drills always
cover several areas: detailed planning, surprise, appropriate methods
of entry, speed, and violence of action. In Milsim airsoft games,
these are all considered. In non-milsim airsoft games, surprise,
methods of entry, and violence of action all matter. Movement and
methods are described and illustrated below. It is still best to work
as a team rather than as a lonewolf in CQC --- a CQC melee is a
situation that you don't want to be stuck in if you're not prepared,
physically and mentally. Knowing someone's checking your six will make
you move securely.
Slicing the Pie
When there are several hostiles and you pop out of cover (like they
do it in Hollywood), you'll have to engage them all at once and be
exposing yourself to them as well. Instead, you can gradually pivot out
of cover, engaging targets one at a time. This is called slicing the
pie because a top-view diagram looks like a pie chart, and the operator
gets a bigger slice as he moves. We can just call it pie-ing, or
tactical-peeking-while-trying-not-to-get-shot-in-the-foot.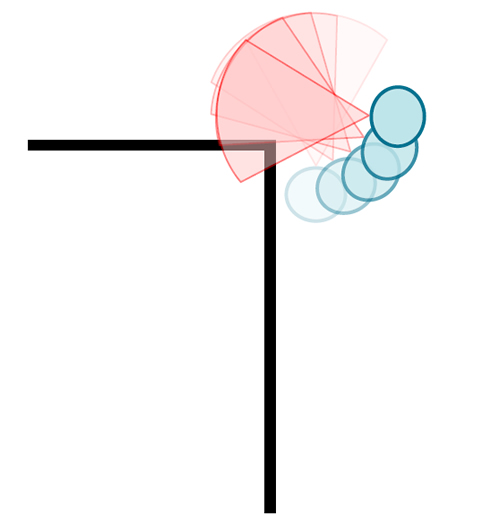 High/Low
To maximize your firepower when covering an area from behind a
corner or another high obstacle, bring two guns to bear by having the
first man kneel and the second man standing close behind. When it's
time to move forward, the standing man can help his buddy stand up by
pulling up on the pull handle usually found at the nape of tactical
vests. Yes, those handles aren't just for hanging up your vest.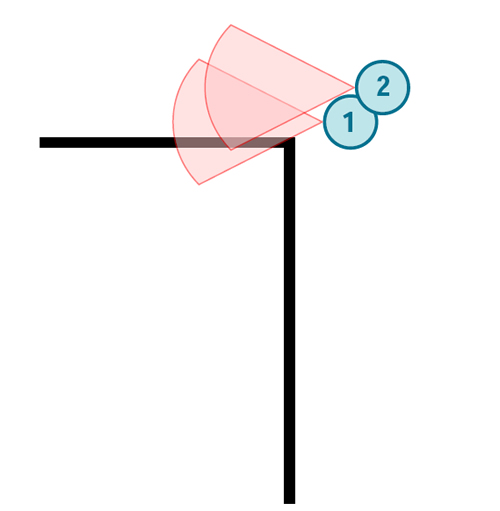 Some do it in reverse, the second man kneeling behind a standing first
man. This is bad because movement is restricted, communication between
the two is harder, and someone can get shot in the leg. Remember:
friendly fire isn't friendly at all, but it's also funny to other
people watching.
Hallway Formations
Moving through long corridors is always dangerous as tangos can pop
out of any number of doors and corners while you don't have cover
available. You just have to move quickly and quietly, and shoot them
first. The team can adopt a variety of formations depending on the
floor plan and situation. In Formation A the team moves in a single
column close to a wall with their fire sectors covering a 180-degree
angle. Formation B, where the first and second man does a high/low to
maximize forward fire, is automatically deployed whenever the team
stops moving. Formation C is used when moving up to clear a
T-intersection.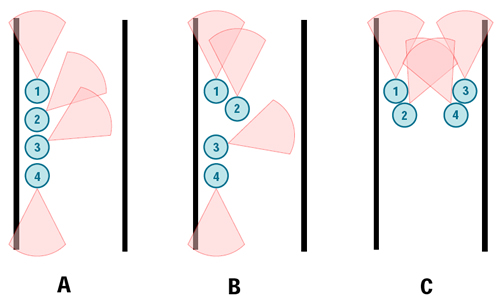 To clear the T-intersection, the buddy teams move up to
clear as much of the opposite corridors as possible, then
simultaneously high/low on their corner.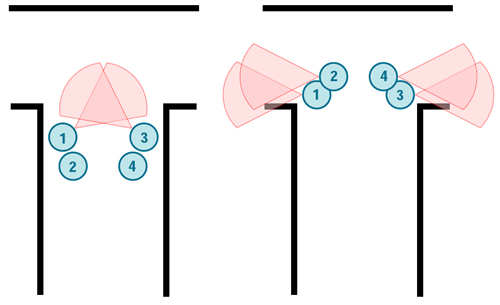 Stairways
Stairways that turn are tricky. First, the pointman pies and clears
the landing. When he takes the first step up he also turns around to
cover the floor above while moving up backwards. The second man still
faces forward up the landing. The third man will follow what the second
man did, and the last man will continue to cover the rear. Be careful,
move up one step at a time or you'll slip and fall down on your
teammates and it'll be a hilarious video on Youtube.
Room Clearing
Now let's discuss the meaty part of CQB games: Dynamic Room Entry. This
involves excellent individual skill, reflexes, teamwork, and then all
of it will boil down to what you do in a few seconds. No pressure, but
don't mess up.
Not all rooms are made the same, plus there's furniture to consider.
During briefing you can plan out using the floor plan on how you will
enter rooms, but most of the time furniture placement will come as a
surprise. Operators will need to adapt and have tremendous presence of
mind.
Let's discuss the basic movements first, which you can adapt or add to
depending on the situation. First man goes into the room clears the
corner, sweeps to the middle of the room while moving to the corner.
Second man does the same to the other corner, and the other men will
follow what they did in an alternating fashion.

A common error in room entry is when the first man enters, pies, and
covers the entire room. This gives too much responsibility to first man
and really slows down the stack. What you want is to get out of the
fatal funnel and put guns inside the room as fast as possible. Split
the room and the first and second man is given responsibility for each
half.
For rooms with center doors you can enter from both sides in criss-cross if you can manage to get men across the door safely.

If the door is wide enough, the first two operators can enter simultaneously and button-hook towards their corners.

Things to Keep in Mind
Be silent
— practice walking heel-to-toe, watch where you step, and don't drag
your feet. Use hand signals or a headset for your radio. Refrain from
chatting with your buddies.
Keep moving
— there won't be much cover available. It's necessary to learn to shoot
while moving. A moving target is surprisingly hard to hit even at close
ranges. If you do find a good hiding spot, resist the urge to camp. You
might get a few kills from unsuspecting passersby but when they find
you it always ends in a painful resolution.
Stick to walls
— but maintain around one foot
distance from the wall so you don't scrape or snag against it. Against
real bullets this also helps avoid ricochets, but in airsoft this is
just to avoid making noise.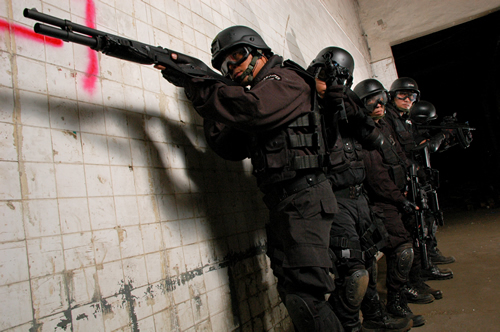 Avoid flagging
— make sure your gun muzzle doesn't go past your cover, alerting enemies of your dastardly plans.
Use hand signals
— but keep them short and simple. For team leaders you only really need
Move, Cover, Stack, and Hold. For everyone else just point where and
how many tangos you spotted. Avoid making conversations with hand
signals and making up signals along the way. Play airsoft, not charades.
Always guard your rear
— it's the last man's job to turn around and cover the rear. It's not
uncommon to see an entire stack get knife-killed because everyone's
facing the same direction.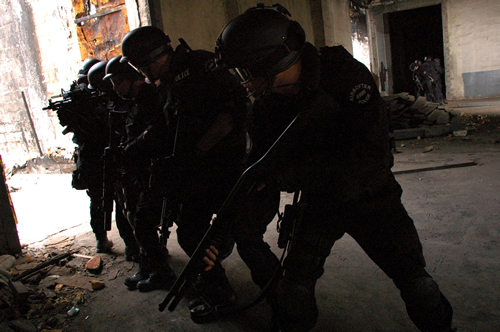 copied from popularairsoft.com