INTERNALS:
Inner barrel and HOP-UP assembly
CA has opted for an aluminum alloy inner barrel against the regular
brass one, which JG has. On closer inspection, we noticed that CAís
inner barrel (blue) features a crater cut.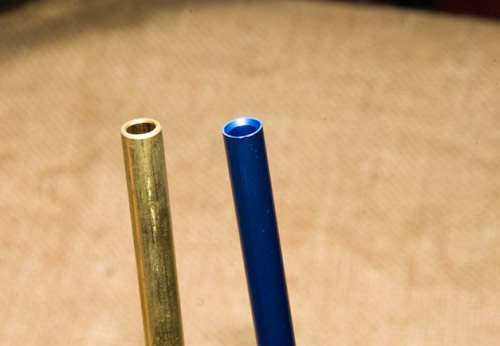 CA Sportline has retained much of its one-piece HOP-UP design,
standard in its CA M15 series, albeit this one is made of plastic. JG
opted for a two-piece design.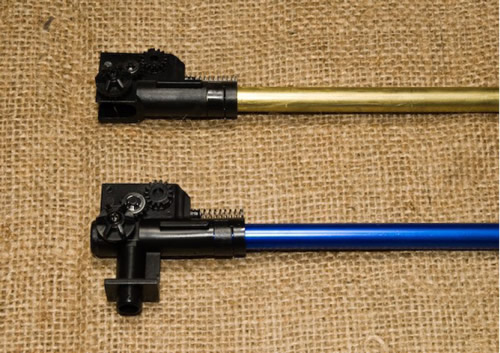 Letís call it even on this one.
Motor
If we are to follow ďstronger magnets make for more powerful
motorsĒ-adage, itís obvious at once which one takes the star. JGís
motor, now sporting a new lookóit now has a label, can support its
weight magnetized to a pair of scissors, where CA failed.
Wirings
This part is kinda tricky, since our review is limited only to the
physical characteristics of the parts. There is no telling really which
one can handle thermal stress more efficiently. The Sportline series
has thickly-insulated stranded copper wires that are more flexible,
which makes it easier to handle or manipulate. One downside though, its
soft rubber insulation is easier to scratch or peel off.
JG has thin wirings, but not as flexible as CAís. It is protected by a
more durable plastic sheathing, that can withstand extreme bending.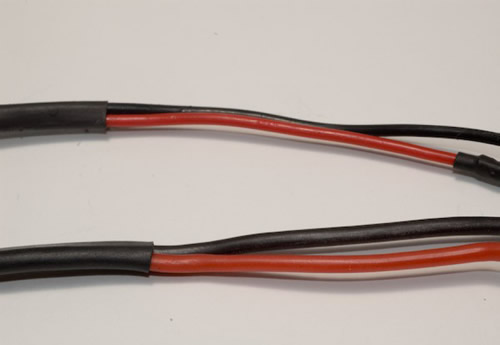 This is a close one, but weíre giving the star to JG, since AEG wirings
should be able to handle physical abuseótugging, bending and scraping.
Gearbox
Weight-on-weight, JGís black gearbox (mechbox) is heavier compared to
CA Sportlineís. Unopened, both gearboxes are stableóno wobbling or
clonking soundóa clear indication that all small parts and internals
are securely screwed on or fastened.
Additionally, JGís wiring is secured in place by a metal wire guide/panel.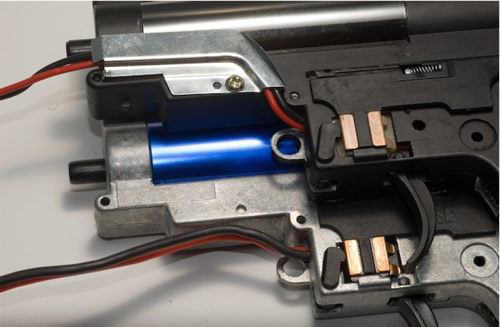 Before you even venture in opening up the gearbox, make sure you have
the right tools for the job. Having been accustomed to the Philips
screws found on the standard CAs and TMs, it was quite a feat opening
up JGís gearbox.
The magazine catch on both units are secured by torx (7 or 6) screws,
while the JG gearbox is held together by nine torx 10 screws (eight
Philips screws secure CAís gearbox).

Taking down JGís gearbox, reveals excessive grease (which may pose some
problems if dust and debris are allowed to accumulate).

Both have plastic bushings as standard, however, only the CA Sportline is shimmed.

The gear sets for both units look well machined.

Comparing the rest of the internals, we noticed that:


JG has a stainless steel spring guide, plastic for CA;




JG has a longer spring, 28 spirals vs 25 spirals for the CA;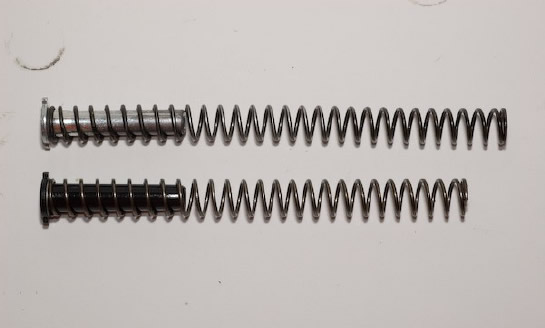 JG features a stainless steel cylinder. CAís aluminum cylinder is
easily knicked (on disassembly), and requires extreme care. It is
considerably thinner and lighter. JGís has a much longer vent, compared
to CAís;




Both piston bodies are made from polycarbonate, although CAís
(black) is much well-made. The piston heads are both ported (four large
ports for CA and six smaller ports for JG). The cylinder heads look
pretty much the same. However, when assembled (cylinder+head and piston
body+head), JGís has a tight fix. Although rather loose, CAís
compression remains surprisingly good.


PERFORMANCE:
Handling
The JG M4A1 has a more robust constructionóunwieldy because of its
weight, but sturdier, nevertheless. The more lightweight CA Sportline
may be an ideal choice for close-quarters combat (CQC), but it doesnít
look strong enough to withstand the rigors of airsoft gaming, as well
as the tug-and-pull from a 3-point sling.
As a unit for long-term airsoft gaming, the JG takes home the star.
Firing
Coming out of the box, JG clocks a whooping 400fps, while CA comes
closely at 350fps on an 8.4V 1100mAh NiCd battery pack. No significant
difference on the rate-of-fire (ROF) of both guns. Range-wise, the JG
outshoots the CA (HOP off). JG has an effective range of about 12m
(36ft), compared to CAís 10m (30ft). A little tweaking of the HOP
system squeezes about 5m (15ft) more from both guns. At shorter
distances using 0.2BBs, the CA shoots more accurately (excellent BB
grouping) than the JG.
Both guns are compatible with most M4 magazines available in the
market. Ironically, the CA Sportline empties a fully-winded JG
300-rounder magazine on full-automatic without any hitch, while
encountering a few misfeeds on a standard CA magazineóan indication
that the magazine spring on may be weak.
Simulated stress test
We took the liberty of removing the fuse (standard in both guns), to
allow us to use 11.1V 1600mAh li-poly batteries on both the JG and the
CA Sportline. The objective is to test the limits (and possibly reach
the breaking point) of both guns.
Firing only six 300-round magazines at 30-second full-automatic fire in
quick succession, the CA was all but remarkable. Extreme vibration from
the full-automatic firing loosened the collar ring, dislodging the
handguards. The high ROF and vibration has also caused the adjustment
knob of the HOP assembly to loosen, greatly affecting the gunís range
and accuracy. Noticeable also, was the motor heating up, midway through
about three 300-round magazines.
The JG M4A1, on the other hand, effortlessly emptied a fully-winded
G&G 450-rounder thermold magazine in one long burst. The unitís
robust construction helped it to keep the vibration at a minimum,
keeping all components intact and secured, during and after firing.
Range and accuracy was maintained even after firing almost eight
300-round and a 450-round magazines. Midway through the eighth
magazine, we were convinced that weíd sooner ran out of BBs that see
this baby conk out.
Verdict and Recommendation
Nah, weíre not counting stars, we leave it all up to you guys, hehehe.
Seriously now, both guns have their pros and cons. It really depends on
a playerís preference and game style, or even which types of gamesites
are available in oneís area.
The CA Sportline is an extreme choice for CQCówith its lower fps
rating; and as a secondary or support weaponóbeing lightweight. Heck,
you can even carry two of these guns in a game. To the more
conscientious collector, this is an excellent piece. Full attention was
given to details and markings. To those with keener business acumen, we
recommend the CA Sportline as a more practical unit for rentals.
Lastly, if youíre looking at a low-priced decent unit, comparable to
most high-end models, the CA Sportline M15A4 is the one for you.
For Marui lovers out there, the JG M4 Carbine is a cheaper alternative,
being an almost exact copy, sans the Colt markings. Although slightly
expensive than the CA Sportline, youíre sure to get value out of your
moneyóespecially if you factor in the cost of the battery and
chargerósince itís already a complete ready-to-play package. Also, with
its solid and sturdy construction, it is suitable both for open field
use or CQC, as well as an excellent platform for future gun projects,
or as a long-term all-around battle carbine.
copied from popularairsoft.com