Not Your Mother's China: JG M4 Carbine vs CA Sportline M15A4
by Brahma on August 15, 2008 01:43 -0500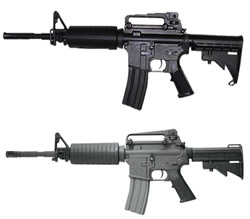 The M4 carbine series traces its
roots to the earlier versions of the M16, all based on the original
AR-15 assault rifles manufactured by ArmaLite. Developed and produced
for the United States government by Colt Firearms, the M4 carbine is
similar to much earlier compact M16 versions, such as the 1960-era
XM177 family. Except for the very first delivery order, all US
military-issue M4s have a flat-top NATO M1913-specification (Picatinny)
rail on its upper receiver.
This configuration allows for the attachment of optical sights and
other aiming devices—Trijicon's TA11 and TA31 Advanced Combat Optical
Gunsights (ACOG) and Aimpoint's M68 Closed-Combat Optics (M68 CCO)
being the favorites—and a detachable rail-mounted carry handle.
Current US government standards are the Colt Model 920 (M4) and the
formidable model 921, commonly known as the "M4A1".
One significant difference the M4A1 have over the standard M4
carbine is its safe-semi-automatic (S-1-F) trigger group. Standard M4s
have safe-semi-triburst (S-1-3) trigger group.
The M4A1: A Dominant Figure in Airsoft
For years, Japan's Tokyo Marui Airsoft Gun Company or TM, dominated
the development and manufacture of automatic electric guns
(AEGs)—Colt's M4A1, in particular. Characterized by mostly ABS
construction, TM's battery-operated M4A1 uses metal gearboxes
(mechboxes) to propel 0.2g BBs at 270fps to 295fps out-of-the-box.
Enter the Dragons
In 2003, a Hong Kong-based company, Classic Army or commonly known
as CA, released their own version of the M4A1—the M15A4, which bears
ArmaLite's trademark. Often seen to rival Tokyo Marui, CA products are
popular because of their metal bodies or receivers. Initially
criticized for lack of quality control or reliability, CA has vastly
improved in the last two years, making it a very strong manufacturer in
the airsoft market.
On the other hand, Jing Gong (JG), also known as Golden Bow or
Echo1, broke into the airsoft market with its M5/MP5 replicas—the
MP5A4, MP5A5, MP5-SD5 and MP5SD6. Constructed mostly from plastic,
these low-power AEGs or LPEGs were fitted with modified V2 plastic
gearboxes and non-standard HOP-UP systems. Prone to constant
malfunction and breakage, aggravated by poor performance, these
replicas were soon discontinued.
Following the success of its AK47 series—built around Tokyo Marui's
V3 gearbox and HOP-UP system—the company soon released in 2006 the
first M16 series (M16A2 and M16A4), which also included the M4A1 and
the M4 S-system. Upgrading its poorly-designed cylinder and barrel from
its LPEGs, JG was able to squeeze in quality out-of-the-box performance
from its latest product offerings. Achieving 380fps to 420fps
out-of-the-box velocity ratings, JG may very well be "the Tokyo Marui
of China-made AEGs".
--with excerpts from
www.wikipedia.com
The face-off…
First off, let's examine what you will be getting from each package: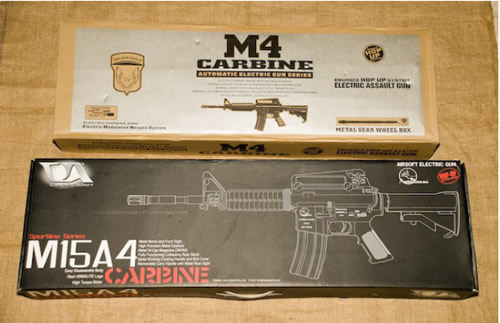 Upon purchase of a JG M4 Carbine (price), you'll get the complete
AEG with an 8.4V 1100mAh NiCd battery pack with charger, one 300-round
all-metal magazine with winder, a cleaning rod, front sight adjustment
tool, and a user's manual. A packet of 500-round 0.2BBs is also
included. Provided that the battery pack has full charge, a buyer
clearly has the shop-to-the-site advantage. The JG M4A1 package is
ready to rock-and-roll in the field, emptying up to six 300-round
magazines.
On the other hand, the (price)-CA15A4 package only includes the
complete AEG, a 300-round all-metal magazine, one packet (about 500
rounds) 0.2 BBs, a cleaning rod and a user's manual.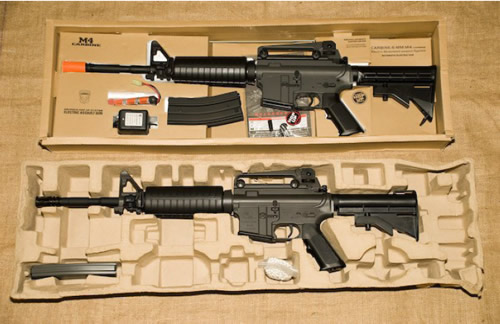 In this aspect, the JG M4A1 takes the star.
EXTERNALS:
On initial examination, the two units are exactly the same—length,
color tones and over-all appearance, including the small parts:
dust/port covers, charging handles, selector switches, magazine and
bolt catches, receiver pins, and trigger guards. Both carry-handles
have adjustable metal rear battle sights and mount on an all-metal
flat-top rail.
Pulling at the charging handles open up the dust/port cover, revealing the HOP-UP mechanism.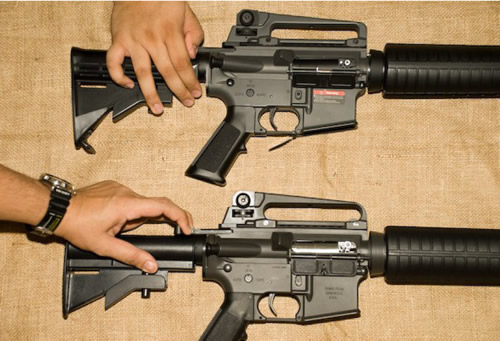 Examining the pistol grips, one would notice that the CA Sportline
comes with a vented-like motor plate and built-in heatsink. The simpler
JG motor plate separates into a couple of small pieces—heatsink and
adjustment knob, which may be a bit cumbersome when disassembled.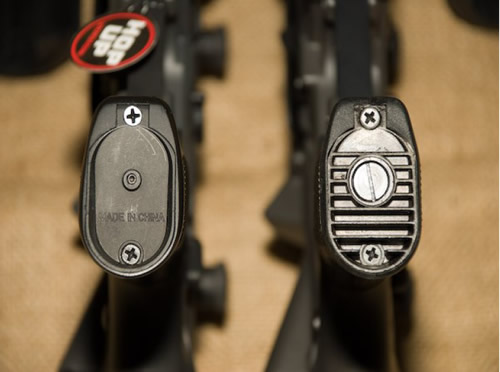 However, to the more aesthetics-conscious buyer, the CA Sportline
series is sure to pull the rug from under JG's feet, with its detailed
rendition of ArmaLite's markings on its ABS receivers. Long-time CA M4
(M15A4 in company parlance) users who are accustomed to CA's metal
bodies will surely enjoy the much lighter Sportline series—engraved
with the ArmaLite markings they're accustomed to.

Although carrying NATO markings on its barrel, the JG M4A1 falls
flat on its face with its "generic" upper and lower receivers.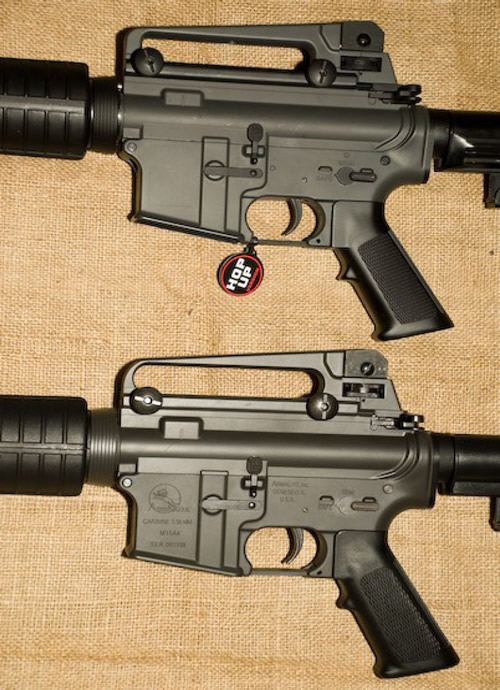 Another noticeable difference between the two units are their
retractable stocks—JG features a law enforcement-type (LE) six-position
retractable stock, while the CA Sportline comes with the standard
four-position retractable stock.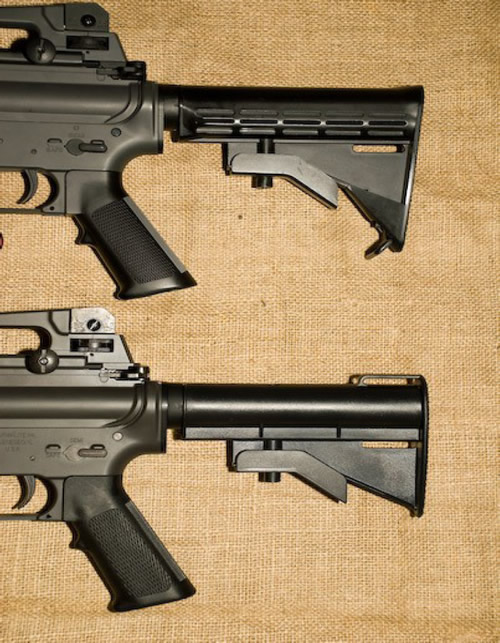 Without question, the CA M4A1 Sportline wins the star for near-authenticity.
The front assembly
Both units' front assemblies feature ABS hand guard and all-metal
triangle sight, bird-cage flash hider, collar lock ring and end-cap,
outer barrel and front swivel sling attachment.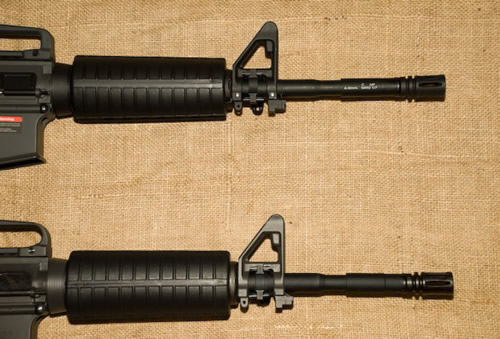 Both easy-open hand guards can accommodate up to 12V 1100mAh or
1700mAh V-type or up to 9.6V 1100mAh or 1700mAh bar-type NiCd/NiMH
batteries. Each hand guard fits 11.1V 1600mAh Lithium-polymer (li-poly)
battery pack.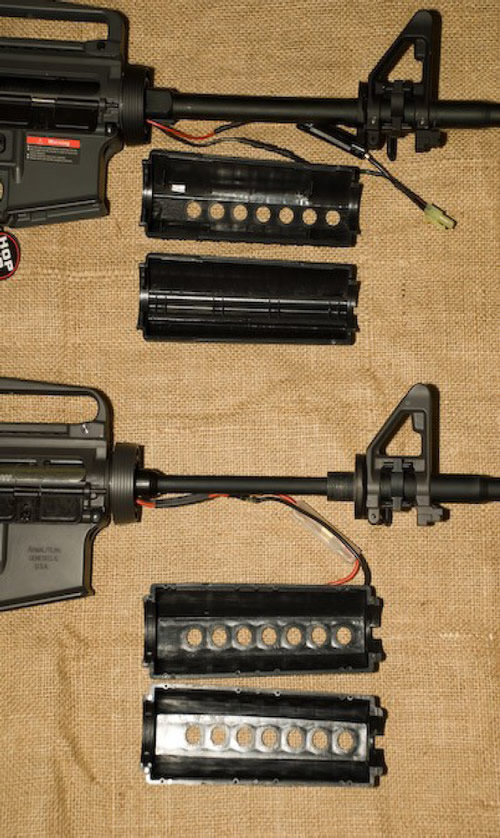 Notwithstanding JG's NATO markings along its outer barrel, we'd call it even for form and function.
Outer Barrel and Collar ring
JG surely presents a greater advantage with its bulkier and
sturdier one-piece outer barrel; however, others may prefer the much
lighter CA. Here, CA fans will be in a bit of confusion (or maybe
disappointment) with the Sportline's TM-type outer barrel. CA's collar
ring requires lesser pressure, making the handguard take-down a lot
easier. On the other hand, JG's collar ring is more stable in keeping
the handguard in place.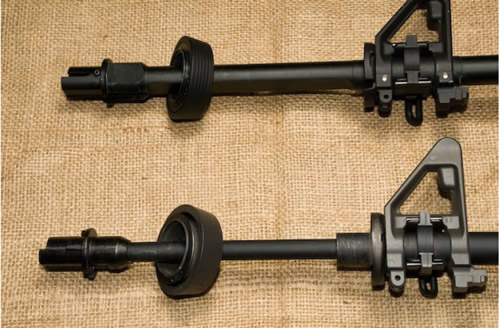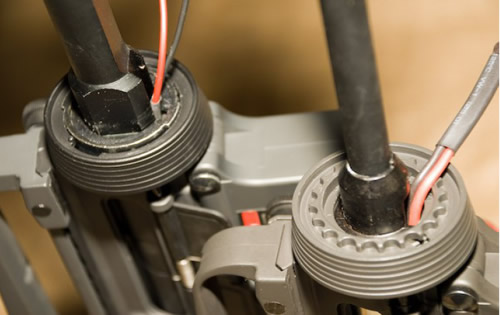 JG gets the star in this department.
Receivers
Both receivers—upper and lower—are made from durable ABS materials
and held together by two receiver pins. CA comes in dull black, while
JG looks greyish, giving it a two-tone look.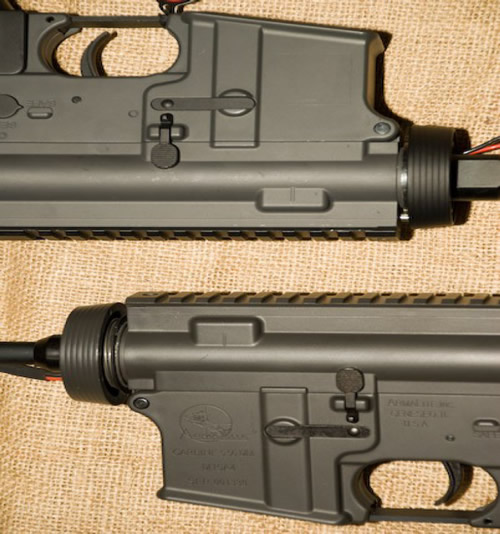 We've already discussed the markings; so, let's talk about each unit's take down.
The CA Sportline adopts a slide-off take-down, common in CA M4s,
but instead of a pin to hold the receivers together, it is secured in
place by a flap or tab:

JG, on the other hand, adopts the TM-style take down. It even copied TM's upper receiver tab:

Retaining much of CA's design from its "high-end" products, the Sportline Series goes home with the star.
see part 2.