Aftermath Orphus SOCOM Airsoft Rifle
by OptimusPrime on August 19, 2008 01:43 -0500
in
News

This AEG at
Pyramid Airsoft
sports
a High-grade die-cast rail system.. "All metal gearbox, barrel &
trigger, High-cap mag, Synthetic OD green body, Tuned for Pro Games.
This AEG shot an unbelievable 500 fps with 0.12g BBs, 400 fps with 0.2g
BBs and 350 fps with 0.25g BBs We recommend using .20g and 0.25g BBs
only. Includes: Manual, Rifle, 8.4v 1500 mah battery pack 250 mah
trickle charger and cleaning rod. Battery charge time: 6 hours.
Description


Comes with orange tip to comply with federal law

RPM: 850

Gun Type: Electric

Mode: Semi/Full Auto

HopUp: Adjustable

Caliber: 6mm

Ammo Type: 0.2-0.25g

Capacity: 400 rds

Weight: 8.7lbs

Length: 37.5in

Velocity: 500 fps w/ 0.12g

Warranty: 30 days"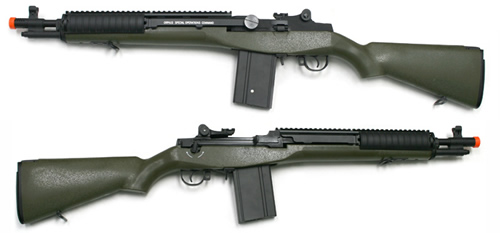 copied from popularairsoft.com
_________________
YEAH BABY!!! AGBIAG! AGBIAG! AGBIAG ti AIRSOFT
another airsoft game has ended,
let us all forget the wrong things made,
for there are still next games to be played..

https://www.facebook.com/mel.t.mayao